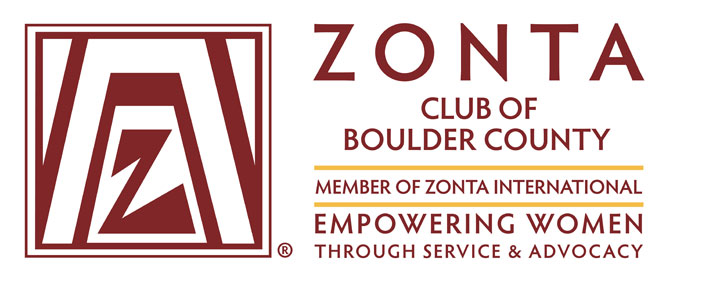 Club Mission Statement:
The Zonta Club of Boulder County is dedicated to advancing the status of women.
Officers:
President: Debbie Squires
Vice President:  Kathy Robertson
Secretary: Carole FitzSimmons
Treasurer: Carole FitzSimmons
Meeting Information:
Zonta Club of Boulder County meets in the evening at 6:00 p.m. on the third Wednesday of the month at a local restaurant. Please contact zontabouldercounty@nullhotmail.com for current meeting place.
Local Fundraisers:
Local Service Projects:
Scholarships:
Amelia Earhart Fellowship (Graduate level aerospace engineering fields) — 15 November 2015 deadline for 2016 Fellowships — Applicants can download the application from the Zonta International webpage
Jane M. Klausman Women in Business (College level) – April 15, 2016 deadline for 2016 funding consideration (2016 application)
Young Women in Public Affairs (High School level) – March 1, 2016 deadline (final 2016 application)
__________________________
Contact:
Zonta Club of Boulder County
P.O. Box 21346
Boulder CO 80308
E-mail contact: zontabouldercounty@nullhotmail.com
__________________________
Last revision date: 09-29-2019