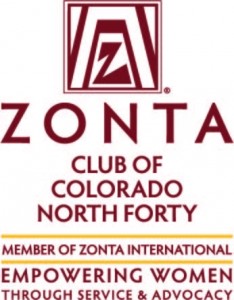 Zonta Rose Day
order payment
This new District 12 Zonta Club was chartered on June 1, 2018 and the members live in the rural Colorado communities north of Ft. Collins, Colorado (the "north forty") – such as Bellview, LaPorte, Carr, Livermore, Red Feather Lakes, and Wellington. We seek former Zontians, friends of Zonta who live in the area, and new members comprised of professionals in this area.
Our mission is to advocate for and serve women and girls both locally and globally through educational programs that raise awareness about women's issues; through fundraising to support scholarships and local and international women's programs, and through hands-on service projects in our communities.
To be eligible for membership, one must be either currently employed in a professional position or have held professional positions during their career and be 21 years of age or greater.
To find out more about this club visit us on Face Book. You can also message us via Face Book or contact ZontaNorth40@nullgmail.com if you have questions.
The Zonta Club of Colorado North Forty currently meets on the third Tuesday of the month on Zoom. When in person meetings resume, we will be meeting at the Red Lobster, 3301 South College, Ft. Collins, CO.
2022-2024 Officers
President • Christy Conrad
VP/Secretary • Marcie Woolworth
Treasurer • Stephanie Dinkel
Director • Becky Kosach

Last revision date: 02-27-2023