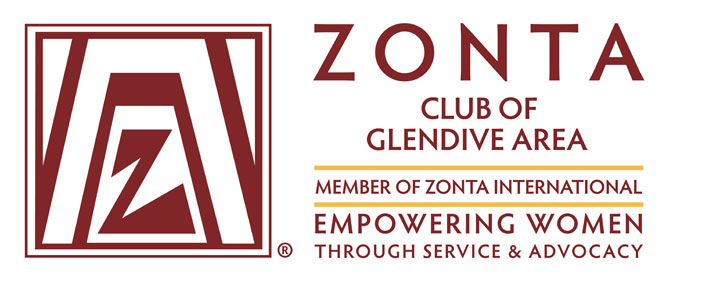 Mission Statement: The Zonta Club of Glendive is a service organization dedicated to service to our community by recognizing and supporting the needs of women and children.
2020-2022 Officers:
President • Connie Undem
Vice-President • Sheila Candelaria
Secretary • Pam Allen
Treasurer • Laureen Murphree
Directors • Elaine Schlosser, Shiloh Smeltzer & Betty Lou Miller
Service Projects:
Adopt a Christmas Family
Coats for Kids
Donations for local charities
Scholarships for Z-Club Seniors
Rang bell for Salvation Army
Take tickets at Makoshika Youth community basketball tournament
Z-Club girls & Zonta members stuffed purses for Domestic Violence victims
Yellow Rose Day where we honor those who have inspired & made a difference in our community
Fundraisers:
Annual Zonta arts and crafts show
Meetings:
Our meetings are the first Monday of each month at 12:00 noon in the Community Room of the Dawson County Courthouse. Come join us for lunch.
Contact Information:
Zonta Club of Glendive
PO Box 1035
Glendive, Montana 59330
or
E-mail: glendivezonta@nullgmail.com

Last Update: 05/26/2020