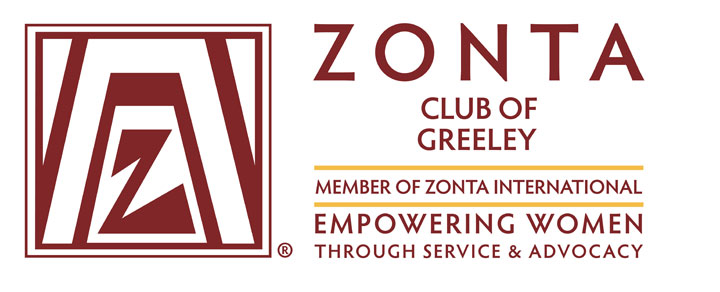 History
In 2009-2010, District 12 Governor Priscilla Romkema
approved an Area 2 SOM (Sponsoring, Organizing, and
Mentoring) Committee, headed by Lt. Governor Kay Meyer,
to focus on developing a Zonta Club in Greeley, Colorado. In
February, 2010, Zonta International approved the
Authorization Request for Organizing a New Zonta Club in
Greeley.
Lists of prospective members were developed and
informational meetings were set up without minimal
attendance. In March 2011, Zontians had a table at the UNC
International Week, where some women working at UNC
expressed an interest. A meeting with these women spawned
a 'steering committee' and regular monthly meetings of the
prospective Zonta Club of Greeley began with good
attendance at an After Hours Event on July 8, 2011.
Governor Kay Meyer and Lt Governor Sheila Davis gave
presentations, as did SOM Co-Chairs Marcie Woolworth and
Kathy Swafford. Packets of Zonta information were
distributed and brain-storming about community needs was
done. During subsequent monthly meetings, various
programs about Zonta International projects were presented
and eventually the club developed local service projects, such
as flyers about domestic violence that were displayed around
the city. The club also sponsored a Proclamation for the 16
Days of Activism Against Gender Violence that was signed
and read by the Mayor at the City Council meeting in
November, 2012, and again in 2013.
Monthly meetings continued, with minutes distributed to
prospective members. By March 2013, the club had signed
applications for 21 members and preparations for the last
steps of chartering began. Members were classified and dues
submitted. The Charter Dinner
was held June 6, 2013, at the Greeley Country Club. It was
attended by numerous District 12 Zontians ranging from
Denver, Colorado, to South Dakota. The group was
addressed via Skype by the Zonta International Director Joy
Orlich, from Reno, Nevada assigned to District 12. Governor
Sheila Davis, Lt. Governor Marcy O'Toole, and Area 2
Director DeeDee Boysen installed officers and members, who
were presented with their Zonta pin, name tag, a yellow rose,
and a gold business card carrier with the Zonta emblem.
Charter officers were:
Susan Bromley – President
Diana Laws – Vice President
Lynda Colter-Bergh – Secretary
Nancy Wendirad – Treasurer
Katherine Swafford – Director
Sue Fuller – Director
Charter members were: Lin Allen, Susan Bromley, Lynda
Colter-Bergh, Gina Curley, Anita Fleming-Rife, Sue Fuller,
Sharon Hiner, Patricia Kiovsky, Diana Krausnick, Cleo Lake,
Diana Laws, Bridget Masters, Murphy Merrill, Loretta Scott,
Maria Secrest, Norma Shelton, Katherine Swafford, Sandra
Varley, Nancy Wendirad, Janella Werth, and Marcie
Woolworth.
The Zonta Club of Greeley continues to be active in the
community and in Zonta activities in 2013-2014. Service
projects include donations to A Woman's Place (women's
shelter), collection of bras for Free the Girls (trafficked
survivors sell for income in Africa), and construction of
silhouettes for the Silent Witness program, which will be
displayed to honor women, children, and men killed in
domestic violence incidents. Zonta also had a table at the
UNC International Women's Day event, and sold yellow roses
for Zonta Rose Day. Two YWPA applications have been
received. Various Dist.12 Board Members attended first year
meetings for support.