Marley Weaver-Gabel was awarded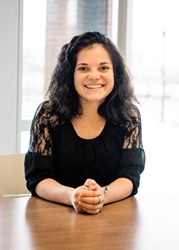 the 2017 District 12 Jane M. Klausman scholarship while pursuing a bachelor's degree in International Business and Communications from Regis University in Denver. Her application was submitted by the Zonta Club of Denver.
A course at Regis called "Social Change" changed Marley's goal from becoming financially independent herself to pursuing a life of service. Through Regis, Marley was sponsored to participate in service trips to Haiti and Nicaragua. Those encounters with extreme systemic poverty made her aware of her privilege and, she says, called her to serve others. Following graduation, she hopes to serve in the Peace Corps working in a local economy to provide business opportunities to residents. After that, she envisions herself working for an international economic development nonprofit.