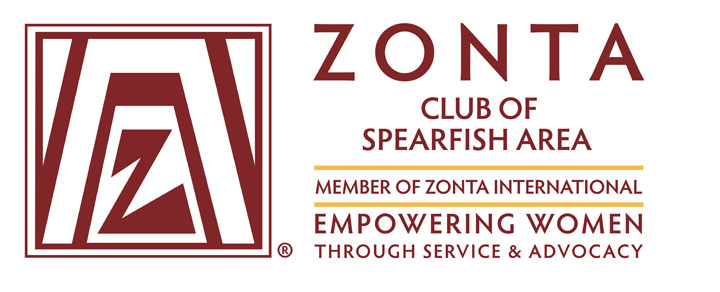 History
The Zonta Club of Spearfish was chartered in 1987; we have one charter member in our current membership. Our club has one(1) primary fund raiser that allows us to grant up to and over $20,000 each year. Our grants are given to organizations that help women and children. We provided clothing to children in need; our school counselors call our organization when they see a need in any of the district schools.
In 2013-2014, we have encouraged our membership to become more visible in the community. To do that, we have sponsored a booth at the annual Northern Hills Training Center's chili feed. At the chili feed, our booth was decorated with and our members wore Zonta Says NO t-shirts and distributed wrist bands. We also prepared a local Mayoral proclamation, using the template provided by Zonta International. The proclamation was signed by Mayor Boke, November 4, 2013. A newspaper story was written and published with pictures. All Zonta members present wore orange t-shirts.
Later in the fall, we sponsored showing of Girl Rising.
Early December brings our annual Festival of Trees; another opportunity to showcase what Zonta is about plus is our major fund raiser for the year.
Early April, we sponsor the Leadership program for High School girls; this program brings together, high school students and administration, Zonta members, mentors from the community, and Black Hills State University.
Currently we have 42 members.
Three of our members have been and are involved on the area and district level. Vicki Bantam was an area Director. Priscilla Romkema was Area 1 Vice Director, Area 1 Director, Lt Governor, and Governor of District 12(each was a two-year term). In addition, she served as a committee member on the Zonta International Jane M. Klausman Women in Business Scholarship Committee for two years. Sue Konstant was on the District Nominating Committee and now will serve on the Z1 Leadership Committee.
Respectfully submitted
Ida Marie Snorteland
Historian