ZONTA CLUB OF LARAMIE'S 2014 ZONTIAN OF THE YEAR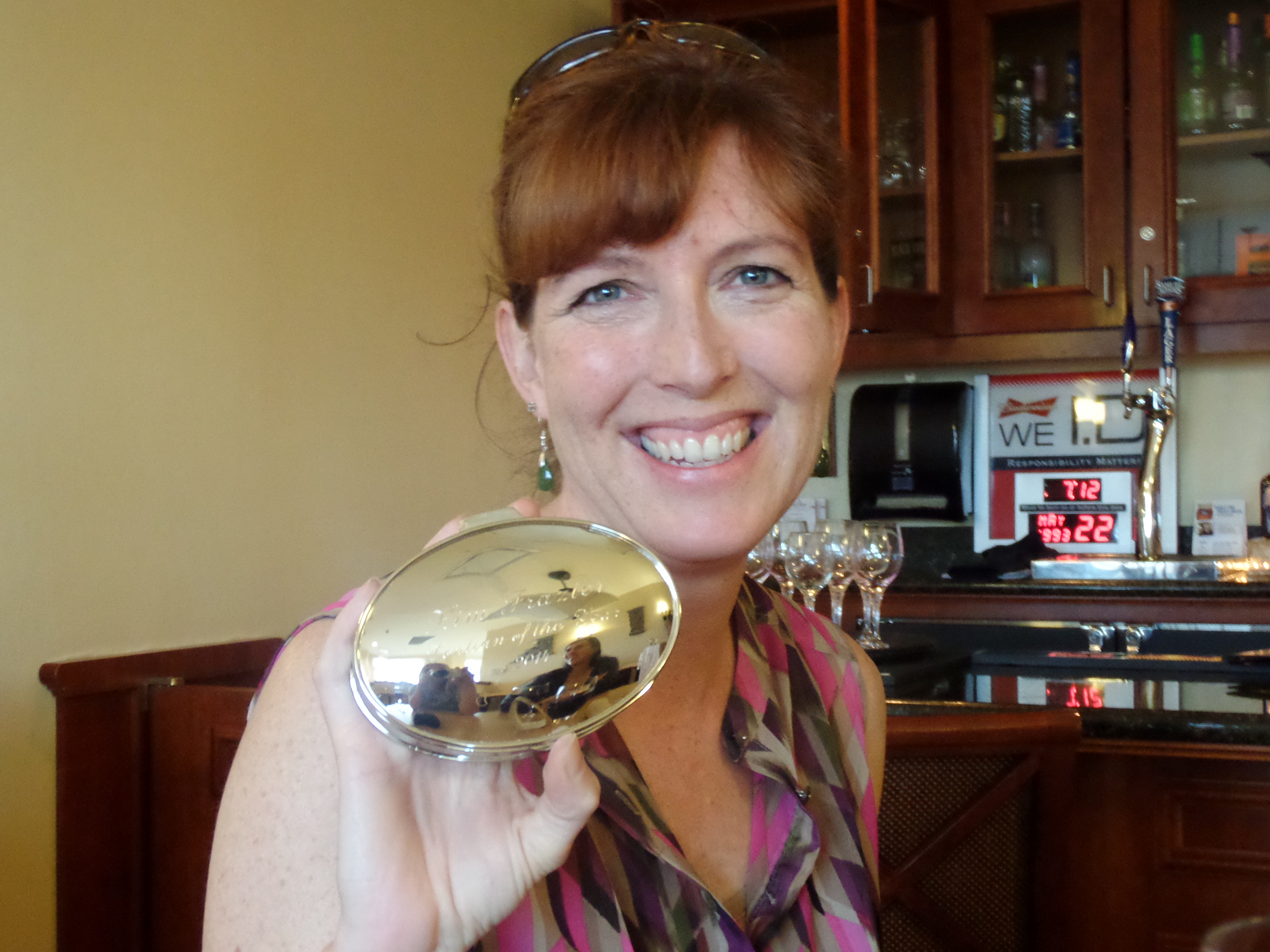 Kim Frazier, 2014 Zontian of the Year, is pictured showing her keepsake box, which she received as a gift from 2013's Zontian of the Year Becky Kosach.
Zonta Club of Laramie's 2014 Zontian of the Year is Kim Frazier. The ceremony took place during the May meeting with 2013 Zontian of the Year Becky Kosach presenting the award to Kim. Becky spoke about the consistent contributions Kim has made to the club since she joined Zonta in 2008. Kim has always been a Zontian to step up and say yes. She served as a Director of the Zonta Club from 2008 – 2009, President from 2010 – 2011, and a Director again from 2012 – 2014. Kim also served on the nominating committee in 2014, as Rose Day Chair in 2013, and will serve as Masquerade Ball Co-Chair in Fall 2014. She has served on numerous committees within Zonta since she joined the club in 2008.
Kim lives in Laramie, Wyoming with her boyfriend, Mike, and her two fur-kids, Tonka and Myra. She enjoys mountain biking, skiing and occasionally running.
Kim attained a Bachelor's of Science in Molecular Biology and a Master's of Science in Pharmacology (Forensic DNA and Serology). She has been employed as a Forensic Program Manager for the Wyoming Game and Fish Wildlife Forensic and Fish Health Lab for 15 years. In 2003, Kim was awarded the Support Person of the Year, which was presented by the Wyoming Game Warden Association. In 2005, she was awarded a Certificate of Appreciation from Law Enforcement Unit of Colorado Division of Wildlife, and was also awarded an Outstanding Achievement in the Field of Conservation Law Enforcement through The International Association of Fish and Wildlife Agencies. She is court qualified as an expert witness in three states. Kim is also a secretary and founding member of the Scientific Working Group for Wildlife Forensics (SWGWILD).
---
2014 – 2015 FUNDRAISING EVENTS
Holiday High Tea – Saturday, December 6, 2:00 PM, at Historic Ivinson Home for Ladies, 2017 E. Grand Avenue. Tickets are $25 each and can be purchased at the Ivinson Home.
Rose Day – Monday, March 9. Watch for Assembly Day and rose sale dates.
Zonta 5K – Sunday, May 10
2014 – 2015 SERVICE AND ADVOCACY EVENTS
Salvation Army Bell Ringing – Sunday, December 7. Call Patty Butler for more information.
Holiday Open House at the Laramie Plains Museum – Saturday, December 13 and Sunday, December 14. Call Mary Mountain for more information.
Free screening of In Plain Sight, a movie on human trafficking. The screening will be held Tuesday, March 31, 6:30 PM, at the Albany County Public Library. The Laramie Community is invited to attend.
Zonta Club of Laramie – Board Meeting Dates
Board meetings are held at the Copper Kettle and are open to all club members. Meeting dates are:
September 16, 2014
October 14, 2014
November 11, 2014
January 13, 2015
February 17, 2015
March 17, 2015
April 14, 2015
May 12, 2015