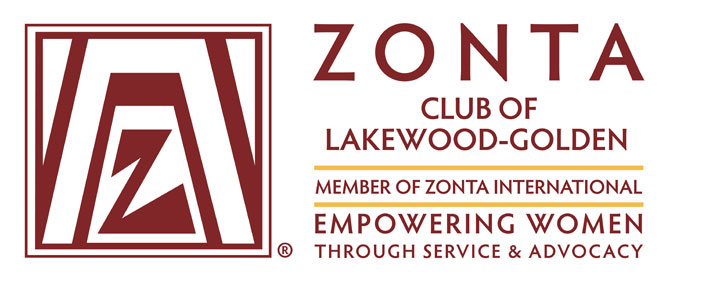 Charter No. 817 * Organized October, 1977

Mission Statement: The Zonta Club of Lakewood-Golden's purpose is to improve the status of women in the Jefferson County area by providing leadership, financial support and mentoring to further the objectives of Zonta International.
Meetings
Club meetings are held on the first Tuesday of each month at 6:30pm. Social time begins at 6:00 at the Action Center. Email LakewoodGoldenZonta@nullgmail.com for an agenda.
Interested in being a member? Click here for details about Zonta International and our local club.
Annual Fundraiser
Club Officers
President – Deb Beatty
Vice President – Beverly Myers
Secretary – Veronica Hoegler
Treasurer – Julie Schaefers
Directors
Pam McPhee
Kari Winter
Diane Wall
Service to Women in Our Community
The Action Center

support organization to provide women and girls with pathways to self-sufficiency through the donation of supplies and service. This includes:

Sponsor the 'ZONTA Club of Lakewood-Golden Joanne Bass Fund' which provides assistance for women participating in the Action Center Shelter or Pathways Program who have a need that compromises their self-sufficiency and cannot be met through their own resources. The fund prefers to support women with education and employment endeavors, such as:

Education – certification, licenses, fees, book, tools and educational resources
Certification & License Renewals
Transportation – assistance to reach school, job interviews or workplace

Participation in the Grub Club program which provides personal items to homeless school girls in Jefferson county.
Help fund annual school supply drive which provides supplies to more than 5,000 Jeffco students in need.
Conduct annual 'Clothing and Personal Items Donation Drive' to help women in need of clothing and personal items (especially for work).

Go Red for Women

– Help spread awareness of heart disease which is the #1 killer of women in the U.S.
Zonta Says No – Participate in annual advocacy events to raise awareness around gender violence throughout the world.
Membership
Membership is by invitation. We encourage women who share our goals to attend one of our meetings in order to get acquainted with what we do in our community and the fun and satisfaction we have while helping other women and their families. Please email the club if you are interested in attending a meeting or would like more information.
2011 Beautiful Hat Tea Luncheon Photo Galleries 1 and 2
2011 Women's Clothing and Personal Items Donation Drive
Make a Tax Deductible Donation