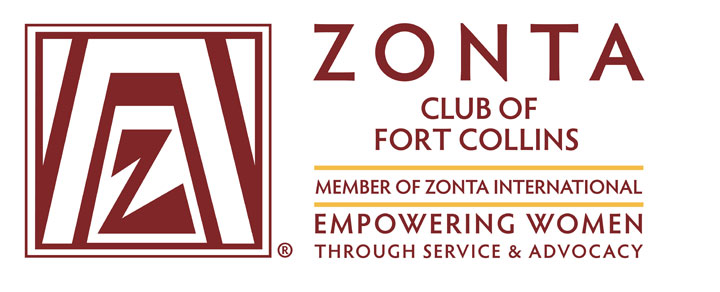 History
The Zonta Club of Fort Collins, Colorado is a member club of Zonta International, District 12, Area 2,
Chartered: December 5, 1997.
Sponsoring Club: Laramie
The following are the original 19 charter members:
Susan Gould – Project Manager w/Atrix Labs
Amey Grubs – Project Manager -PIP
Sarah Bennett – Loan Officer w/CTX Mortgage
Lisa W. Robinson – Real Estate Agent w/Coldwell Banker
Mary J. Currie – Loan Officer w/Pacific Mortgage
Paige Burkes – Ranch Manager w/Sundance Trail Guest Ranch
Kathleen Duff – Editor w/The Coloradoan
Marsha Smeltzer – Associate Athletic Director w/CSU
Patricia Gass – Co-Owner Gass Plumbing & Heating
Susan Winfield – Attorney (Susan J. Winfield)
J. Elaine Procter – Attorney at Law (J.Elaine Procter)
Donna L. Long – Certified Public Accountant w/Allend & Assoc.CPAs,PC
Teri Phipps – President Fireweed, Alpaca Ranch, LLC
Stella A. See – Volunteer, Board Member, Tutor
Susan F. Snyderman – Treasurer, SS Studio
Arleen Davy – Teacher, Poudre School District
Susan B. Miller – Retailer, Turquoise Exchange
Martha A. Denney – Director, Colorado State University
Lauri L. Herrmann-Ginsberg – Faculty, Colorado State University
Brief History of Club development:
This club initiated Zonta Putt Fun Day in 1997 at Alpine Family Funtier and participated in the annual Rose Day event. They later added an annual Golf Tournament.
Service Programs: The newly formed club also supported the Food Bank, The Sexual Assault Program through clothing donations
and trail clean-up thru adopt a trail program.
Lunch & Learns @ Front Range Community College – A brown
bag luncheon free to students was initiated.
Special Achievements: District 12 Host – Sept 2006 at the Marriott
Hotel – special guest: Beverly J. Morrow, Governor
The above information was gleaned from Zonta Club of Fort Collins first Scrapbook dating back to 1999.
For more information on the Zonta Club of Fort Collins, please visit our website: www.zontafcevent.com